Event Overview
The Bakken Oil Product & Service Show is the longest running industry tradeshow in the Williston basin and the only one located in Williston where thousands of industry people live, work and make the day-to-day decisions.
BOPSS provides valuable information and offers a forum to connect companies in the Bakken Shale Play, providing an opportunity to network and conduct business. The show creates tremendous value by highlighting featured products and service providers, connecting companies with key decision makers in the industry right here in the Williston area.
Trade Show
The trade show floor includes over 100 booths featuring established and emerging product and service providers in the Williston basin. Vendors run the gamut from equipment your personnel to sources for your equipment, trucks and accessories, to the latest in well site and downhole equipment and materials.
Registration is free
for those who are employed in the oil and gas industry. Complimentary lunch is provided both days.
Activity in the Williston basin is rockin' with daily production above 1.4 million bpd. As the industry continues to evolve, connecting with innovative product and service providers is a critical part of the success.
Industry Forums
BOPSS will be hosting three industry forums in the categories of LoadPass Permit System, Petroleum Engineering, and Well Site Facilities. The forums will provide valuable information from industry experts, experienced business leaders, technology researchers, and innovative product and service providers to help improve business activities and operations. 

The LoadPass Permit System Forum will feature the LoadPass Permit Program used by companies and counties to issue and manage permits for overweight and oversized loads on county and township roads in the oil producing region. The sessions will provide system training with a question and answer period and a roundtable discussion about the program and online permit system features, future enhancements and policies.

Petroleum Engineering - Sponsored by Ramada Williston
The forum will provide presentations and discussion around topics of interest to petroleum and reservoir engineers specific to the Williston Basin including recent research topics. The session will feature presentations from the University of North Dakota (UND) Petroleum Engineering on industry-related research projects for the Williston Basin and Bakken formation.

Well site operations are a rapidly changing environment from equipment advances, construction strategies to automation and IoT applications. The forum will focus on emerging solutions and strategies relevant in the Williston basin.
BOPSS Networking Social 
This event will bring together exhibitors, sponsors, invited top clients and key prospects, energy industry managers and leaders, along with Williston area local business and community leaders.  Personally invite your key clients and prospects and extend your connections beyond the trade show attendees.
Wednesday, October 2nd from 4 p.m. to 6 p.m.
Networking opportunity open to all attendees, exhibitors and sponsors
Complimentary Hors d 'oeuvres and cash bar
Venue Information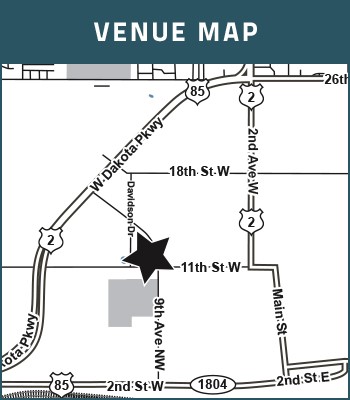 The Williston Bakken Oil Product & Service Show will be held at the Raymond Family Community Center in Williston, North Dakota.
Raymond Family Community Center
1002 11th St. West
Williston, ND 58801
Contact Information
The show is produced by DAWA Solutions Group, LLC. Questions and inquiries may be directed to:
DAWA Solutions Group, LLC.
PO Box 936
Williston, ND 58802
Office: 701.577.1100
Fax: 701.577.1105
Exhibitor Inquiries: events@DAWAsg.com
Sponsor Inquiries: jzarling@DAWAsg.com